SS-Series Surgical Scrub Sinks
The SS-Series is our premier line of surgical scrub sinks. Some features include a deep sloping basin, high mount swivel gooseneck spout,
splash screen divider, and a new optional infrared soap dispenser. The SS-Series is available in single, double, and triple basins and combine
the best materials, components, and craftsmanship available.
---
STANDARD FEATURES
Single, dual, or triple stations
Deep sloping basin
Adjustable thermostatic controlled pressure regulating mixing valve (one per station)
Knee operated water & soap
(optional for IR sinks)
Check stop strainers for ease of maintenance
High mount swivel gooseneck spout with adjustable swivel spray aerator
Flow control valve
Backflow preventers
Infrared sinks are equipped with a 24 volt plug in transformer
Splash screen dividers with double and triple station sinks
Main support and Z-brackets
(wall support optional)
304 stainless steel polished and ground to a #4 finish
OPTIONAL FEATURES
Infrared operation
Infrared soap dispenser
Manual bypass to add knee operated water & soap with IR operation
Knee operated water with IR water operation
Knee operated soap with IR water operation
Foot operated water
Foot operated soap
Digital scrub timer
Eye wash
Thermostatic mixing valve
(add on to eye wash option)
Laminar flow
220/240V power supply
Pedestal base
In-wall chair carrier
Wall shelf over sink
Lighted wall shelf over sink
---
Please select a surgical scrub sink model below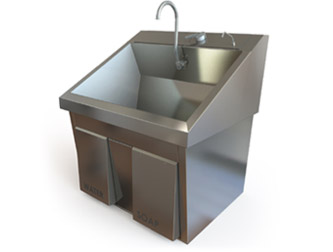 SS32
Single Station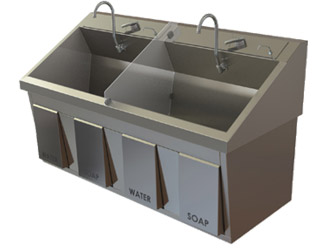 SS64
Dual Station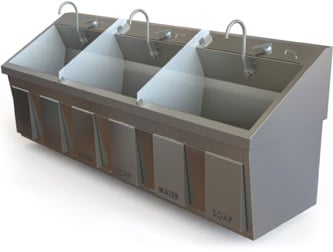 SS96
Triple Station
---

NEW! Optional Infrared Soap Dispenser
MAC Medical, Inc. is proud to introduce our new Infrared Soap Dispenser. Available for use with our SS-Series Surgical Scrub Sinks as an optional feature, the automatic infrared-triggered design allows for convenient touch free use, helping to eliminate the spread of germs and contamination. The infrared dispenser is capable of being powered through 6VDC operation (with four "D" sized batteries) or with a wall transformer. Mounting brackets and backflow preventers are included, and a retrofit kit is available (for purchase) to service existing sinks.
---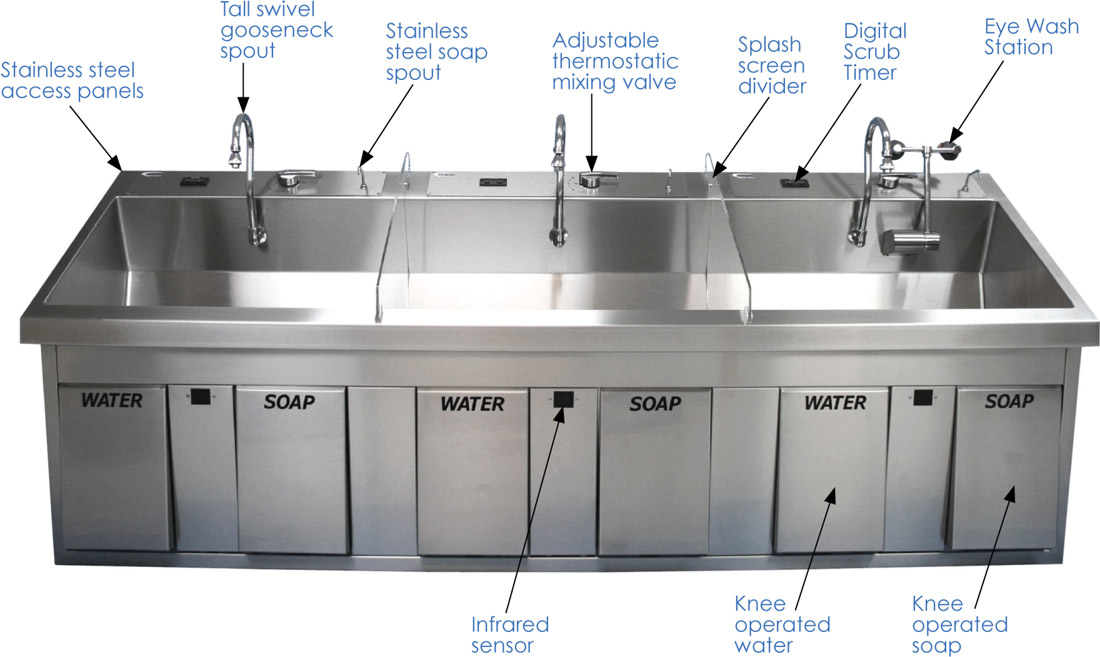 SS96  (shown with multiple optional features)
---
Optional Recommended Products
| Model # | In-Wall Chair Carrier | Wall Shelf Over Sink | Lighted Wall Shelf Over Sink |
| --- | --- | --- | --- |
| SS32 | S0001 | SH0001 (12" D x 32" W) | SH0001-L |
| SS64 | S0002 | SH0002 (12" D x 64" W) | SH0002-L |
| SS96 | S0003 | SH0003 (12" D x 96" W) | SH0003-L |
Note: Additional sizes available for specific requirements. Please contact us for further assistance.